Within walking distance (see local map)
At the bottom of the driveway and about 20 meters along the road is "Killurin Service Station", a well-stocked mini supermarket with a deli counter, serving hot food at lunch time. They also stock good quality ready meals, which can be heated in the Patio Garden Kitchen or the microwave in the dining room. Around the corner from the shop is Marty B's lively country pub. Here you can play darts, pool, bet on horses, watch the premier league football games or just chat to the locals. You can also avail of a meal from the chipper type menu available from 5pm (except Tuesdays and Wednesdays).
Some sample dishes include:
Mixed Basket (Nuggets, Goujons, Onion Rings, Sausage and Chips) - €10.00
¼ pounder with Cheese and Chips - €10.00
Chicken Curry with Rice / Chips - €12.00
Freshly Battered Cod, Peas & Chips - €12.00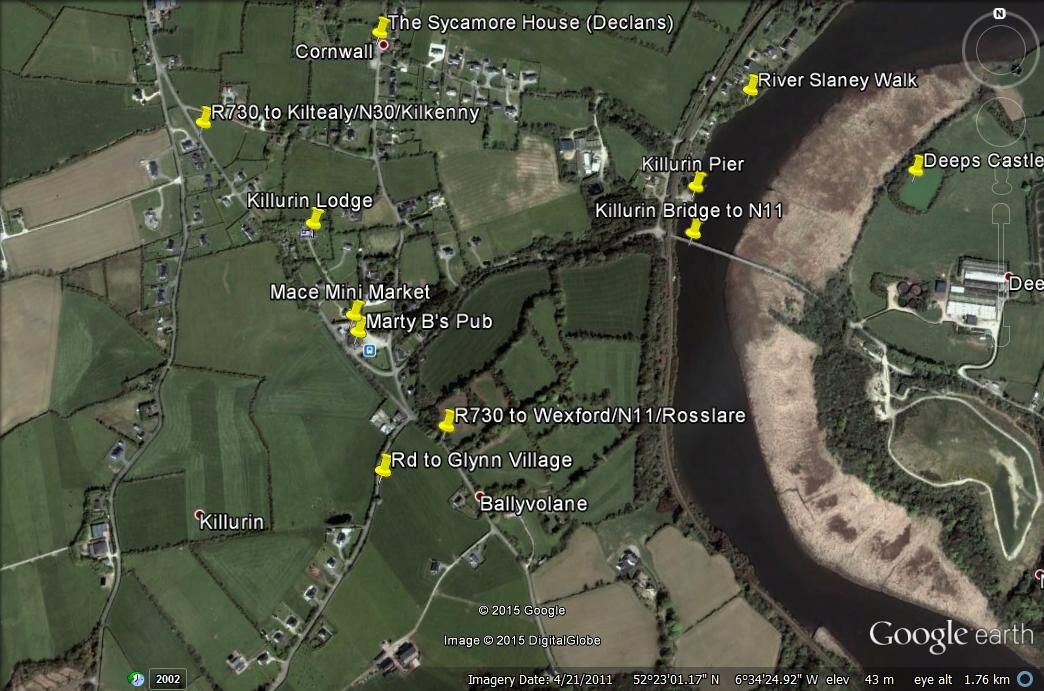 A ten minute walk (by the "bottom road") will bring you to The Sycamore House, an oldie world traditional Irish pub run by husband and wife team Declan and Mary and affectionately known to the locals as Declans'. Here the world is often put to rights by the regulars standing along the bar and the television is strictly for major sporting occasions. Check out the original wooden floor and low ceiling. Take a walk down by the river and then toast yourself in front of the wonderful open fire while listening to the tall tales of the locals. Just to note, there is no food served here, unless you count crisps and peanuts.
Ten minutes walk in the other direction (along the "top road") will bring you to an old Church of Ireland church and cemetery, which was built in 1785 on the site of a previous church. As children we were told the story of Lady Beatty, who succumbed to a fever and was buried in a vault in the graveyard regaled in her jewelry. However, when stealing from the grave, one of her servants cut off her finger in order to remove her ring. It transpired she wasn't dead, but merely in a coma. She woke up and walked home, much to the joy of her family. Legend has it that this death certificate and her subsequent death certificate can be viewed in the local archives. However, I've never wanted to run the risk of ruining a good story with too many facts!
Another ten minute walk will bring you to the beautiful river Slaney River, where in the summer evening you can watch the Killurin rowing club from the pier or the bridge, as they train for many of the local regattas held each weekend. A small gravel pathway gives you access to a beautiful walk along by the river and down to Bellevue Gate Lodge, which was once the entrance to Anthony John Cliffe's mansion, destroyed by fire during the civil war. All that remains is the private chapel designed by Pugin and built in 1859. The other side of the river, known as the Deeps, boasts a Norman castle built in the 14th or 15th century. Deeps castle although now in ruins, is notable as one of the few remaining examples of a Tower House of its kind. Forty years after Cromwell's invasion of Wexford, William of Orange fought and defeated the troops of his brother-in law, James 11 of England at the Battle of the Boyne in 1690. James is said to have stayed in hiding at the Deeps Castle.
Within 5km
If you turn left out of Killurin Lodge driveway and travel on the R730 towards Wexford, just before you intersect with the N11, you will come to the Irish National Heritage Park. This is a particular favourite of ours, not only for its remarkable heritage trail, but also for its fantastic restaurant, where the seafood chowder is to die for!
If you turn right out of Killurin Lodge and travel about 4km along the R730, you will see a sign for Loch Mahon Fishing Lakes, which are well stocked with both brown and rainbow trout and cater for both the beginner and experienced bait and fly fisher. It would make an excellent family outing for an afternoon and you can barbeque your catch for dinner!
Wexford County and Towns
I believe one of the greatest attractions Wexford has to offer is it's abundance of beautiful blue flag beaches stretching around the entire coast line of the county. From Courtown in the north of the county to Curracloe, Rosslare, Carne, Cullenstown and right around to Duncannon in the west of the county, to mention but a few. My childhood memories are of sunny summer Sundays when the question was which one of these wonderful beaches we would go to today? Each one had its merit, for example, Courtown had the seaside amusements, Carne had huge dunes, where you could jump and roll down hot dry sand or Duncannon where you could drive on to the beach and have your picnic from the car. The point is, there is a beach for every occasion in County Wexford.
To see the top attractions and what to see and do in Wexford, have a browse around www.visitwexford.ie, which offers excellent maps and guides of the County Wexford towns and has a comprehensive list of festivals and events in the area.
Another good source of information on events in Wexford is offered by My Ireland Tour. They also have a very nice website where you can compare old and new photos of Wexford called Wexford Then & Now.
If you are in need of transportation, then we recommend Coastal Cabs, one of our local taxi and bus hire companies.
Upcoming wedding? Check out both of these website for something a little different Murphy's Barn and Wilton Castle.