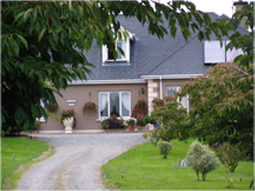 Welcome to Killurin Lodge, a family run 4 star Bed & Breakfast offering quality service, value for money and a warm Irish welcome. This modern comfortable home is nestled in the heart of Wexford's Slaney Valley with beautiful river views less than a five minute walk away.
A short stroll through the 2.5 acre mature garden will bring you to the bottom of the driveway where a Mace mini supermarket and Marty B's lively country pub are located. The Sycamore House, an old style traditional Irish pub, is within a ten minute walk by road or 5 minutes across the field. Both Wexford and Enniscorthy towns are just a ten minute drive away and Rosslare Europort in less than half an hour.
Your hosts Clare and Colin invite you to share the warmth of our welcome as well as our home and to make it your home for the length of your stay.
House and Garden
Killurin Lodge is located at the bottom of a long driveway lined by cherry trees and flowering currant bushes, which are particularly spectacular and fragrant in spring time. This privacy ensures that it is safe for children to play, guests to park and there is no traffic noise to interrupt your night's sleep.
Throughout the garden there is a bountiful selection of fresh fruit, vegetables and herbs, used in our breakfast, snack and specials menus. The chicken coup is home to an individually named, who produce an abundance of fresh eggs each day and we love to have help collecting them!
A large decking area to the side of the house is ideal for dining alfresco in the summer or just to sit, relax and unwind. It's lovely to watch the wild rabbits play in the early morning or late evening. Occasionally, you might catch a glimpse of the fox, as he does his morning and evening rounds or perhaps a hedgehog or badger as they amble home. We also have a gas barbeque, where you might like to cook up some food in the summer evenings.
In addition to our 4 guest rooms, there is a large bright south facing dining room, with a great view of the bird table, where while having breakfast, you can watch finches, sparrows, robins, tits and siskin on the various feeders. The dinning room also contains a fridge and a computer with internet access for your use. The guest sitting room is warm and cosy with an open fire to add to the homely ambience of the house. We also include a substantial book, CD and DVD library for your enjoyment and a selection of games and books to keep our younger guests amused.
Killurin Lodge, Cornwall, Killurin, Enniscorthy, Co Wexford.  Y21 YC64: t (00353 53 9128013)